Richmond-upon-Thames Mincab Service, London, TW10
A Professional Minicab Service Serving Richmond
Richmond in London is a wealthy town in the south west part of London and is part of the Borough of Richmond upon Thames, about 10 miles from the centre of London. Richmond is a popular residential area and has an influential commercial and retail sectors. The town itself is located on the Thames and is within easy access of the famous Richmond Park. So if you need a lift to the airport or just a short trip in the Richmond area we are always on hand to help you out.
If you need a minicab, then call us on +44 (0)20 8870 8888 or email us anytime of the day.
The airport service that we offer to and from London goes to all the London Airports - Heathrow, Gatwick, Stansted, Luton and London City.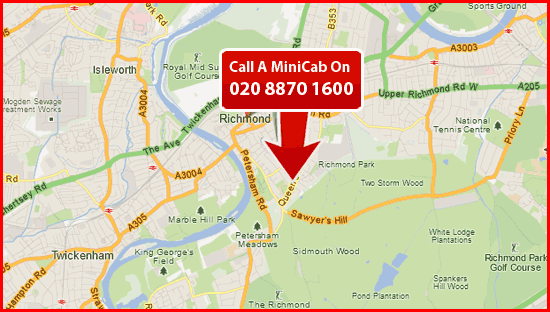 If you are planning to stay in the Richmond area, then why not choose a hotel from the list below:-
The Petersham Hotel - Nightingale Lane, Richmond, TW10
Clarendon Serviced Apartments - Manning Place - Manning Place, Richmond, TW10
Richmond Park Hotel - 3 Petersham Rd, Richmond, TW10
Restaurants to visit:-
The Bingham - Haute Cuisine - 61-63 Petersham Road, TW10
Pomegranate - Turkish Restaurant - 94 Kew Road, TW9
Mamma Mia Restaurant - Italian Restaurant - 459 Upper Richmond Road West, SW14
Pubs to enjoy:-
White Cross - Water Lane, (Richmond), TW9
Roebuck - 130 Richmond Hill, (Richmond), Surrey, TW10
The Britannia - 5 Brewers Lane, Richmond, TW9
Nightlife:-
Viva Nightclub - 1-3 Hill Rise, Richmond Surrey. TW10 6UQ
SoBar - Cocktail Bar - 10 Brewers Lane, Richmond, TW9
Isha Lounge Bar - 43 Richmond Road, Kingston-uponThames, KT2